A modern concrete church in the world's most northerly town manages to be warm, intimate and welcoming. You'll only find paradoxes like that in Hammerfest.
Hammerfest Church has a lofty position on the hill above the centre of the world's most northerly town. When he drew up the plans for the church, architect Harald Magnus took his inspiration from the racks used to dry fish. Before the war, these racks were synonymous with the town of Hammerfest. The triangular shape also symbolises the Holy Trinity.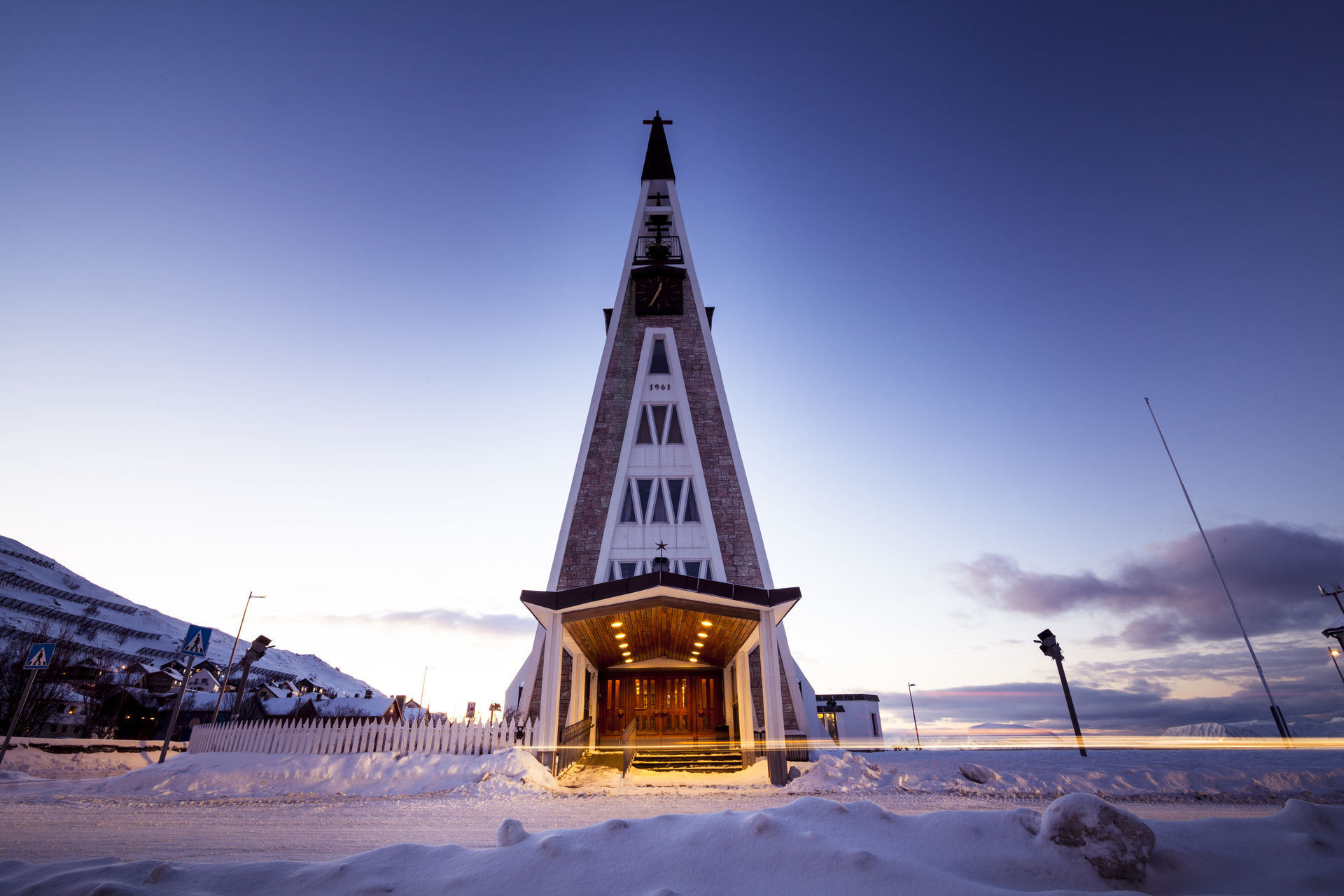 A warm interior welcomes parishioners
The church features a modern design with simple lines but the interior is warm and welcoming, with a wooden ceiling reminiscent of an upturned boat. The east wall is adorned with a beautiful stained glass window made by Jardar Lunde. Smaller windows set into the low walls alongside the nave are decorated with Christian symbols in glass blocks.
Local artists contributed to the church's interiors
The pulpit and the altar were also made by Jardar Lunde. Both were created in the conventional style, reminiscent of Romanesque or Byzantine art, but have been made from wood, and painted in clear, bold colours with an emphasis on blue. The pews have also been finished in strong colours, and brighten up the interior. The organ gallery was made by the Hammerfest artists Eva and Knut Arnesen, and is embellished with reliefs of the previous churches in Hammerfest, of Thomas von Westen, missionary to the Sami people, and Læstadius, the Sami revivalist preacher.
This was not the first church in Hammerfest
The first church in Hammerfest was built in 1620, and was a simple wooden chapel. The church that was burnt down in 1944 during the German retreat was the fifth to have stood here, and was an elegant, wooden church in the Swiss style. The church is also linked to a parish hall adorned with the old ecclesiastical art from the previous churches, including an altarpiece dating back to 1623 and two chandeliers from the 1700s. It is a wonderful way for the modern church to hold onto its links with the 400-year history of churches on this site.
There are other church buildings in Hammerfest
The churchyard lies beside the church, and the 1937 burial chapel just outside the churchyard was the only building to survive World War II. It was used as a church until Hammerfest's new church was built in 1961. The world's most northerly Catholic church is also located in Hammerfest — the tiny church of St Michael. It was built by German volunteers and consecrated in 1958.

Visit Hammerfest
For all the information you need about visiting Hammerfest church and all other aspects of Hammerfest and its surroundings simply check out the Visit Hammerfest webpage.