The common evening primrose was popularly believed to be a remedy against grumpy wives. But we are more inclined to believe that a meal at Hildurs Urterarium at Tilrem near Brønnøysund has just as great an effect…
Hildur is the name of an 85-year-old farmer's wife on one of the farms at Tilrem near Brønnøysund in southern Helgeland. Having spent many years milking cows and bringing up children, when she and her husband, Torbjørn, handed over the farm to the younger generation in 1988, Hildur realised her dream of creating a herb garden and restaurant. Today, the restaurant is run by the second and third generations of the family, but Hildur still looks after the 250 different varieties of herb in the garden.
Spices, medicines, fragrances and good humour fill the air
The herb garden contains poisonous plants, spice plants, medicinal plants and fragrant, aromatic herbs. Parsley fern is given to horses with colic; while European wild ginger is an emetic, used for making overindulgent beer-drinkers vomit, so they can drink some more! Bog myrtle is used to flavour schnapps; while common house leek is planted on turf roofs to catch any sparks from the chimney. The poisonous belladonna (deadly nightshade) (from the Italian: "beautiful woman") makes the pupils enlarge and appear more beautiful. Lovage is an aphrodisiac which also helps cows in heat. Common evening primrose is said to help women through menstruation, the menopause and when generally feeling low, and as such is quite a boon. Hildur, Laila and Aina, who show visitors round the garden, are eager to explain the old folklore background of herbalism, but take the alleged effects with a good pinch of salt.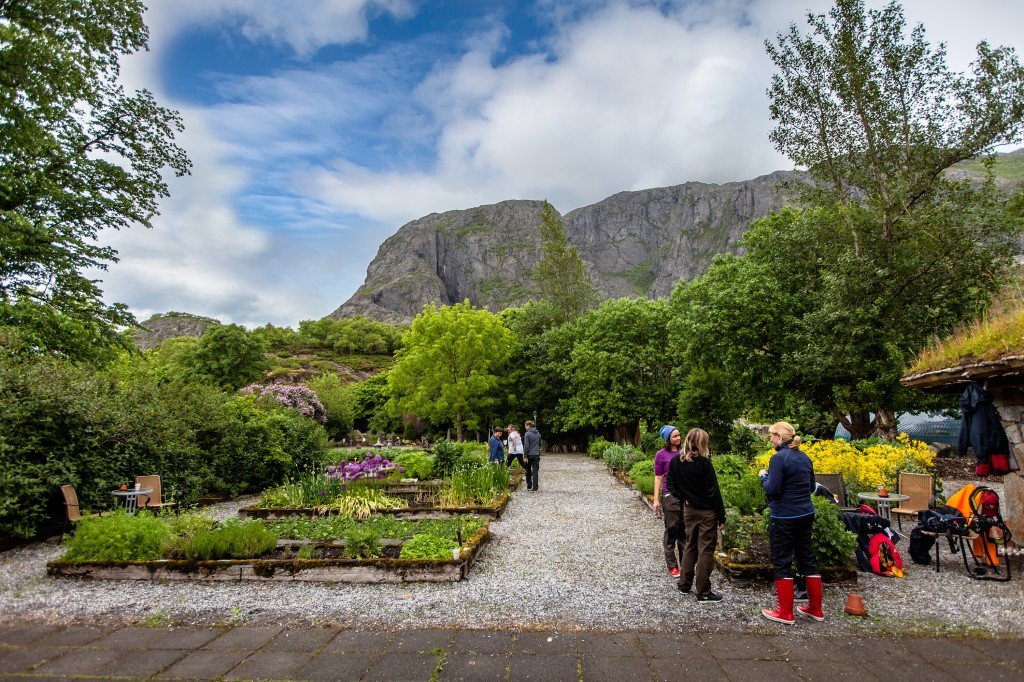 In the Biblical garden, plants from the scriptures grow
At the end of the herb garden is the Biblical garden, where plants are grown that are mentioned in the Scriptures. Many of these are heat-lovers and are moved inside in the winter time, such as laurel, fig, pomegranate and olive. In the mild climate of Helgeland apples grow, and Hildur has made sure that the famous serpent in Paradise is also present. The Biblical garden resembles a little altar, and every summer couples hold their weddings here. To date, all the more than 30 couples who were married here are still together…
Herb garden roots lead to Hildur opening her own restaurant
The way from herb garden to restaurant was a short one for Hildur – as she enjoyed making both spiced breads and herb-flavoured soups for guests. Soon she was inviting guests into the 250-year-old farmhouse to dine. Beneath the low, beamed ceiling, among chaise longues, cosy upholstered sofas and converted paraffin lamps from different style epochs, there is a wonderfully welcoming and homely atmosphere. Now it is Hildur's eldest son, Atle, and his wife, Laila, who have taken over the main farmhouse, and who invite dinner guests into their own private home. Coffee and aquavit are still enjoyed in the old lounges, while dinner is served in the more recently built Sagastua restaurant. Decorated in Viking style, it evokes the many historic Viking sites in the area.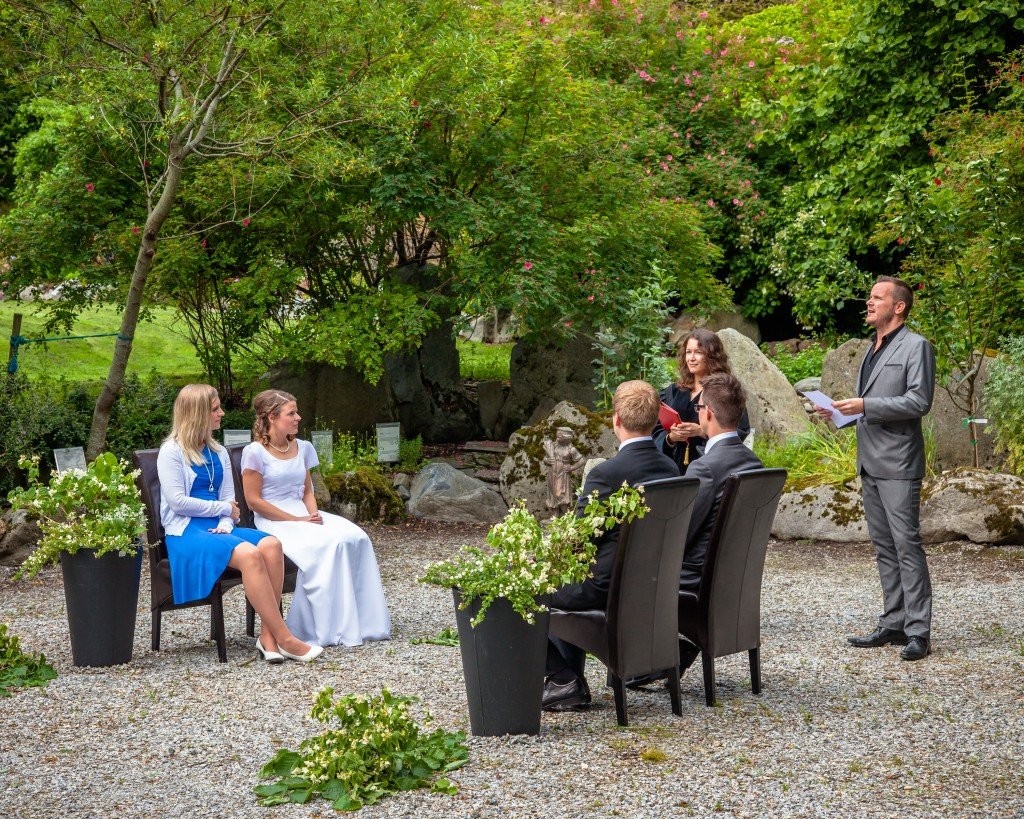 You'll find local produce from Helgeland
The restaurant concentrates on local ingredients and produce. Ronny Solbakken, chef and third generation on the farm, hunts both elk and roe deer in the local area. From the Vegafjord comes a rich selection of fish and shellfish. The local lamb, reared outdoors all year round, like wild sheep, feed on the same as their wild cousins and so have a delicious "gamey" taste. Herbs and spices from the garden add that extra touch of flavour.
Wash it all down with some Aquavit
Herbs are also used to flavour the Norwegian national spirit, aquavit. In appreciation of their efforts to promote Norwegian cuisine, in 2012 Hildurs Urterarium was awarded authorisation as an official aquavit bar by the organisation Friends of Norwegian Aquavit. Torghatten Aquavit has been developed by the local aquavit society, and makes an excellent accompaniment to saithe and saithe liver cooked in the Helgeland manner.
A visit to Hildurs Urterarium
In the midst of the verdant cultural landscape of south Helgeland lies Hildur's farmhouse at Tilrem, beneath a magnificent, 150-year-old elm tree with three trunks. The trunks must surely stand for faith, hope and love, says our guide, Aina Solbakken. In summer visitors can buy a ticket giving entry to the herb garden and the art gallery, and enjoy a simple lunch in the café in the garden. On summer weekends the outdoor pizza oven is lit, and delicious, leaf-thin pizzas with lots of spice and herbs are served. Or you can book a table to dine in the Sagastua restaurant. Bookings can be made up to the day before, all year round. A quick call can in other words quickly result in a sumptuous meal at Tilrem.

Visit Helgeland
For all the information you need about visiting the region, including Hildurs Urterarium, check out the visit Helgeland website.