Johnny Trasti, in the go-ahead family business Trasti & Trine, is in constant touch with deep-sea fishermen, farmers, anglers, hunters and Sami reindeer herders. This means he always has access to unique raw materials, to create a Finnmark version of modern gourmet food.
"Before refrigerators, the people of Finnmark had little access to vegetables. Instead, they ate the whole animal, often including the stomach contents, in their quest for vitamins and minerals." Johnny Trasti talks enthusiastically about the food in Finnmark. As a Finnmark man through and through he is passionate about his raw materials, the coming and going of the seasons and the cultural history surrounding food. A meal at Trasti and Trine is an education about local food as well as an exquisite gastronomic experience.
The menu is derived from local, seasonal produce
When we were there at the end of summer the menu was small saithe from Alta Fjord, whale, reindeer veal, Arctic char from Stabbursdalen, redfish from Sørøya – "so big they must have stumbled on an old folk's home out there" – goose from Havøysund, then raspberries and chocolate for dessert. The food is served on platters of local Alta slate, the hardest slate in the world. When it is served, Johnny tinkles a glass and talks briefly and precisely about the source and preparation of the food, to put the delicate mouthfuls into context.
Johnny has contacts over all Finnmark
Johnny nurtures all his suppliers, from the professional coastal fishermen, farmers and reindeer owners to sporting anglers and hunters. Elk hunters, for example, have learned to cut out the tender meat in the cheeks for delivery to Johnny. Anglers who catch Arctic char in their secret tarns, ring Johnny. In this way he has access to the very best raw materials in the whole of Finnmark. There is no menu, you eat what Finnmark has to offer on the day you are there.
Mushrooms are a new phenomenon in the Finnmark kitchen
Johnny is fascinated by mushrooms. Penny buns are not found in Finnmark, but there are chanterelles and other edible mushrooms. The mushrooms are picked in August, then pickled, salted, dried and frozen before reappearing on guests' slate platters during the winter. Northerners are traditionally sceptical about mushrooms, but Johnny learnt to use them down South and they add something extra to the Finnmark cuisine. On the farm, he and his partner also cultivate herbs, vegetables and soft fruit and preserve them for the winter.
When restricted creativity blossoms
Johnny grew up in a home with good, old-fashioned country food. Then one day a professional chef, dressed in whites and a chef's hat, cooked fried saithe with herbs and onions in their kitchen and Johnny realised he too could be a chef. He enjoyed working as a chef in Oslo, learning from the best in the business and using raw materials from all over the world throughout the year. However, the mileu made it difficult to exercise his own creativity and work in tune with the seasons, so he came back to Finnmark to develop these skills. Restricting yourself to the raw materials right on your doorstep makes you imaginative and creative. No asparagus? Fry a piece of reindeer moss instead.
Arrive at the restaurant on dog sled
We find Trasti and Trine deep in a pine forest in the Alta valley, some kilometres from Alta's modern town centre. His partner Trine is a renowned dogsledder who has often taken part in the Finnmark race, Europe's longest sledge dog race. You can combine dogsledding with a good meal here. As the restaurant is small, opening times vary during the year. It is quieter in the summer and at its most hectic during the February winter holiday weeks. Advance booking is therefore essential. Johnny also arranges courses, so small groups can learn more about everything from game to wild salmon.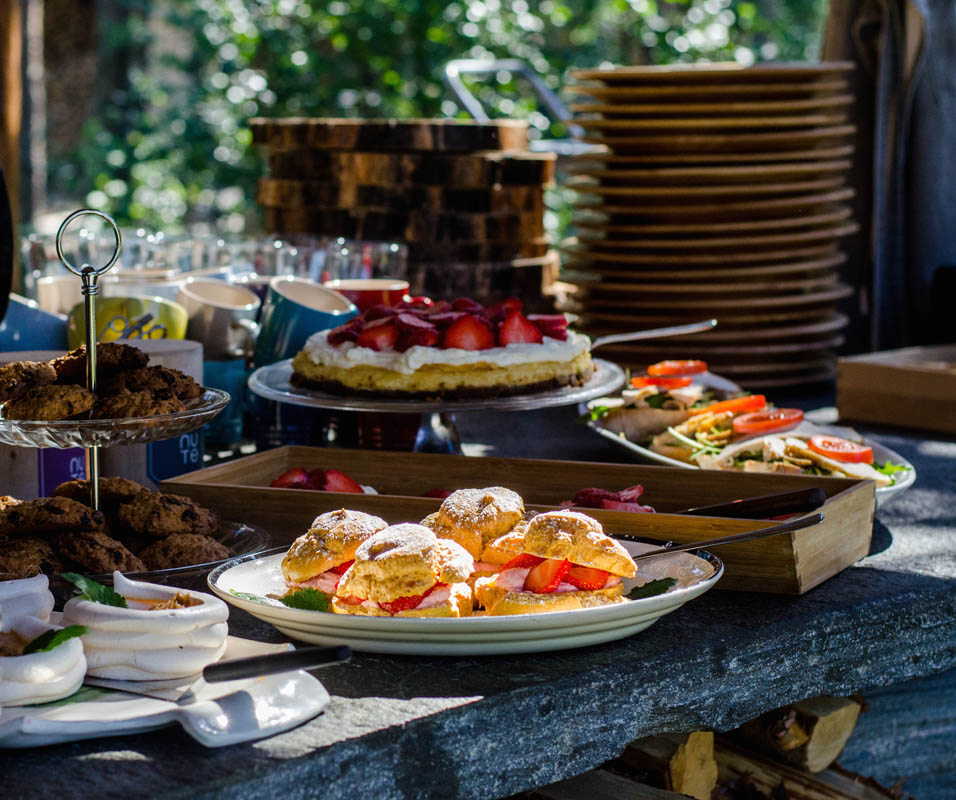 Want to have a taste of Finnmark?
Trasti & Trine have their own website with both menus and dogsledding. Click the link below to go to their homepage.