Inland from Harstad there are several caves. Fred Åge Hol takes visitors on caving trips, where the choice is between an easy cave for beginners and a more challenging one for those who dare to explore deeper.
The Resshellaren cave in Skånland is a very easily accessible cave. True, it requires you to sit on your backside and slide five metres into the body of the cave, but once in you'll find yourself in a huge cavern with a roof towering many, many metres above you. There is nowhere you are likely to fall, and you won't get lost. Even people with a touch of claustrophobia feel comfortable here. There are limestone stalactites and stalagmites in abundance, and Fred Åge is very happy to tell visitors more about caves and caving. All in all, Resshellaren is an excellent introduction to "underground" Norway.
A banqueting hall in the mountain drips with stalactites
A cave as accessible as Resshellaren can be used for a variety of things. Fred Åge has served both coffee and soup in here, sometimes on a crisp white tablecloth with candelabra and flickering candlelight. Once he even brought a musician who played on a lur made of birch bark. The strange, other-worldly sound was entirely appropriate among all the dripping stalactites. Fred Åge has brought parties of kindergarten children and senior citizens here, so this is a cave that most people can enjoy.
Trollkjerka is for the more advanced
Trollkjerka (The Troll's Church) is a large cave very close to Evenes Airport. Anyone venturing into Trollkjerka will need to have any feelings of claustrophobia under control and will also need to be pretty fit, as in parts of the cave they will have to wriggle and crawl their way along. However, this should on no account deter you if you have never been in a cave before.
There are many entrances to the caves
Trollkjerka has been measured as the 11th largest cave in Norway ‒ although as cave measurement goes there are quite literally some hidden statistics. One entrance is simply a hole in the ground which one could easily fail to spot and fall right into, but fortunately it is in a very remote area so that is unlikely. From this entrance there is a drop of 40 metres (131 ft) down to the Kirkesalen (Church Hall), the largest in the network of caves, and as much as a 70-metre (230 ft) difference in height to the lowest measured point. The descent is, however, gradual, so there are no sharp drops. Another entrance is via a river that disappears suddenly into the mountain, the so-called Trollkjerringtaket. You enter the cave by wading through the river.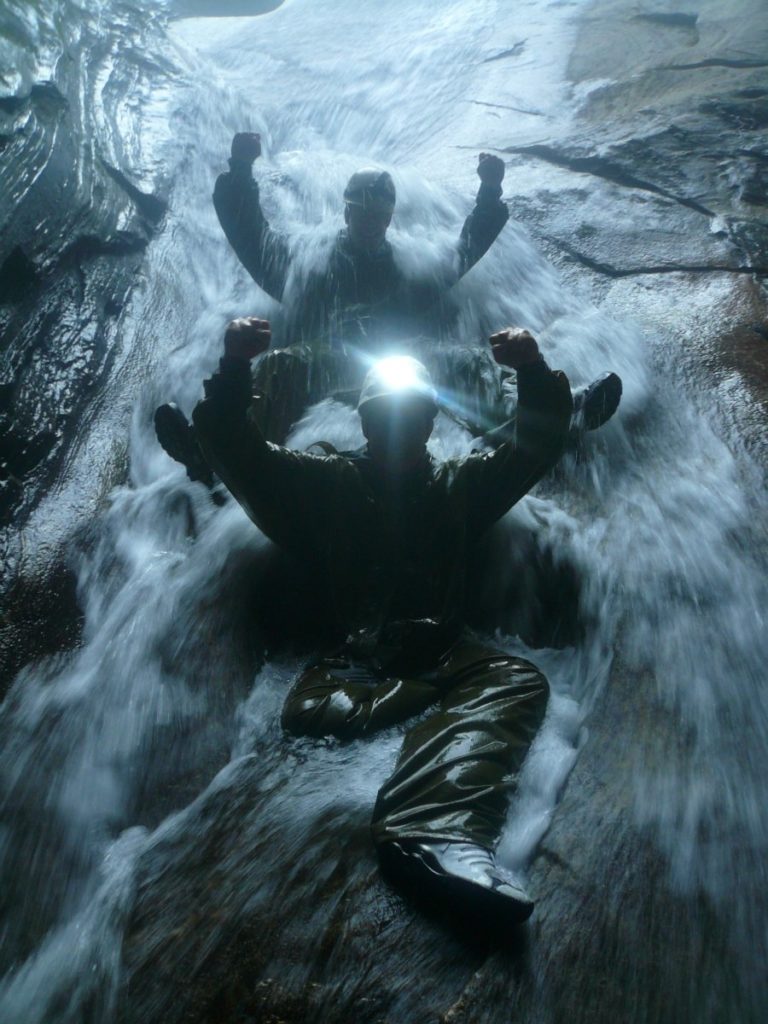 Hundreds of people can fit in the Church Hall
At the centre of the Trollkjerka network of caves is Kirkesalen (The Church Hall), a vast space with stalactites, stalagmites and the sound of a rushing river. There is room here for hundreds of people. Sakristiet (The Sacristy), a smaller space just inside, is completely quiet, however. Fred Åge is not sure why a long, narrow and impressively high-vaulted passage is known as Oraklet (The Oracle), "but I usually tell people they can ask about anything in here," he laughs.
It's like walking through an organism
The passage between the Church Hall and the Sacristy looks like what you might see when a miniature camera explores the internal organs of the body, says Fred Åge, for "it feels just as though one is inside a living organism". The effect comes from the magical light from the torches and from the unusual rock formations on the cave walls.
Caving tours are available
Fred Åge takes both small and large groups into the caves on request. While Resshellaren is accessible for most people, to explore Trollkjerka you need to be fit. You should therefore have a chat with Fred Åge to find out which tour would suit you best. But note that you should on no account attempt to enter either cave on your own. A short walk to Resshellaren takes barely an hour, while a longer walk through the Trollkjerka caves takes up to three hours. "And by the time you've finished, you're pretty tired," says Fred Åge.

Visit Harstad
For all the information you need about visiting Harstad and its surrounding areas simply check out the Visit Harstad webpage.