When the settlers in Bardu decided to build a new church in 1821, they sought inspiration in the place they came from. And so the community's most skilled builder was despatched down to Tynset in Østerdalen. Bardu Church is a copy of Tynset Church.
Most of the inhabitants of Inner Troms are from families originating in mountain communities down in Eastern Norway, in the Gudbrandsdalen and Østerdalen valleys, and in South Trøndelag. The gigantic "Storofsen" flood which brought catastrophe to the valleys in the summer of 1789, not only carried away entire houses and farms, but also washed away impoverished soil, leaving many farmers barely able to scratch a living. And so many people migrated north in the succeeding decades and cleared land and settled in Målselv, Bardu and several other valleys in Northern Norway.
It was a long way to Ibestad
The settlers in the Bardu valley had a long way to get to church. First they had to walk right down to Salangen, then take a long boat ride over to Ibestad where the church was. With day-to-day lives spent in back-breaking toil clearing the land for farming, the settlers felt the lack of a local house of God very keenly indeed. In 1821 they were finally granted permission to build a church.
Practical information about Bardu church
Setermoen is located in Central Troms and is a passing point for many who drive from Tromsø down to Lofoten along the E6 route.
The church has it's own website page (Only in Norwegian)
Visit Narvik covers this area and its webpage has all the information you will need.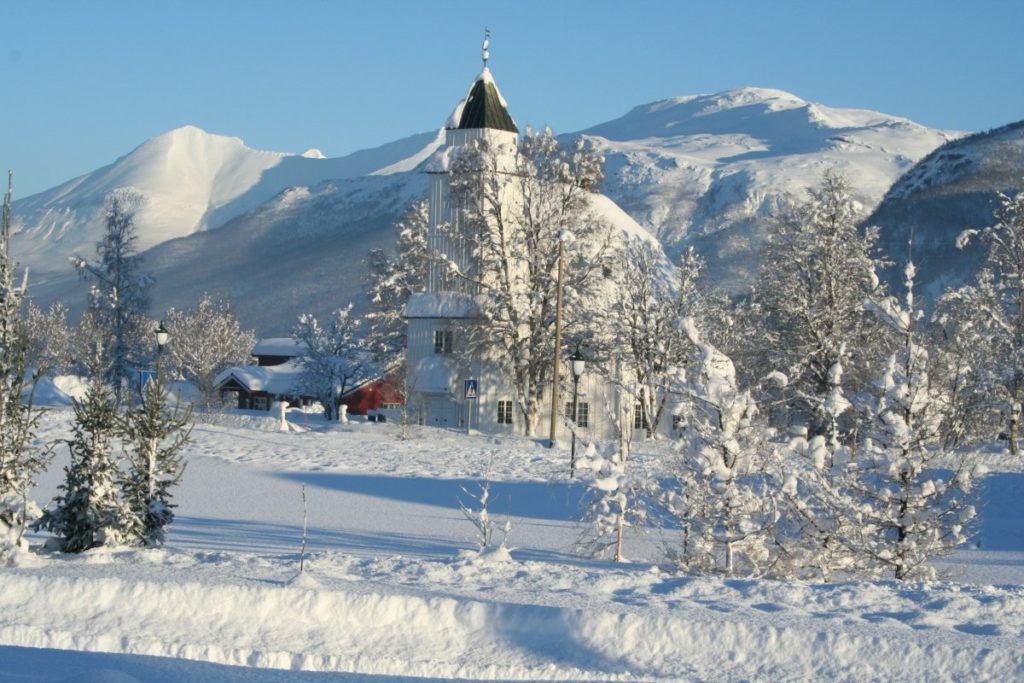 The building was inspired by a childhood church in Tynset
Since many of the settlers came from Tynset in Eastern Norway, one of them, a local carpenter and builder named Ole Kjæreng Lundberg, was despatched back to his home village. As a child he had watched the wooden church at Tynset being built, and now back in Tynset he scratched out a plan and drawings on a piece of board. This gave him a model to construct a copy of Tynset Church, albeit on a smaller scale. Work began on Bardu Church in 1825, and in 1828 the roof was on. The church was consecrated in 1829, following a tremendous and whole-hearted effort by many of Bardu's 358 inhabitants.
The Interior is in the Empire style
The fine church interior, which is also a copy of that in Tynset Church, is a Norwegian version of Empire Style in timber, painted in light, pastel colours. The pulpit is suspended on the wall of the choir above the altar and surmounted by a crown-shaped sounding board. There is a barrel vault ceiling with the original painted acanthus leaves and floral designs, and along the walls of the nave are galleries which could seat a large congregation. Two of the original galleries were later removed to make space for the organ.
Tower and bell were later additions
The church is octagonal in plan and painted white. During some periods it was also painted red. The tower was added in 1840, but it was not until four years later that the settlers had an old church bell transported up to Bardu from Os in Østerdalen. This 17th century bell was only replaced in 1982, after cracks marred much of the sound quality.