Do you wish to see the northern lights under your own terms? In this article, northern lights hunter William Copeland shares some of the most popular drive-to locations around Tromsø for viewing the northern lights.
Renting a car is a fantastic way to explore the local area on your own. Road networks are good and can take you to some great locations for viewing the northern lights. However, it is important to remember that even though rental cars will have winter tyres, this is the Arctic, and rapid fluctuations in the weather and road conditions can make driving challenging. If you have no experience of driving in winter conditions, it is not recommended to rent a car, but to take one of the many great guided tour options.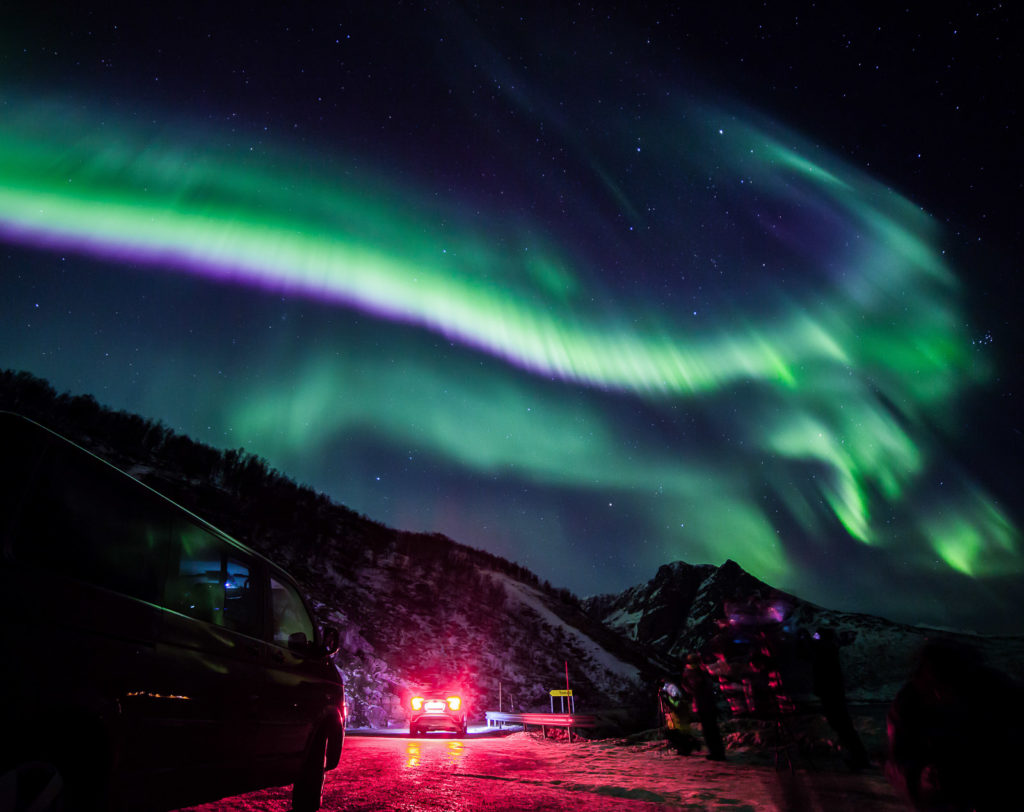 Mother Nature chooses where you drive
The weather chooses where you drive. Weather often changes on a daily or even hourly basis in Tromsø, the gulf stream makes sure of that. Therefore, many times you will need to leave the city to find lady aurora. Here are four classic weather pattern set ups which can take place during the winter in Tromsø, and the subsequent areas you are most likely to find clear skies.

The area has been divided into four zones
So let's get straight into it. The area has been divided into 4 distinct areas, all within driving distance from Tromsø. Each area has a distinct landscape, and for photographers looking for a particular shot it is a good idea to know the local geography before driving. Zones 1 and 2 can be accessed with relative ease, and are good for clear sky nights. Zones 3 and 4 are for the determined, and are often better for difficult weather conditions, or just for a change of landscape.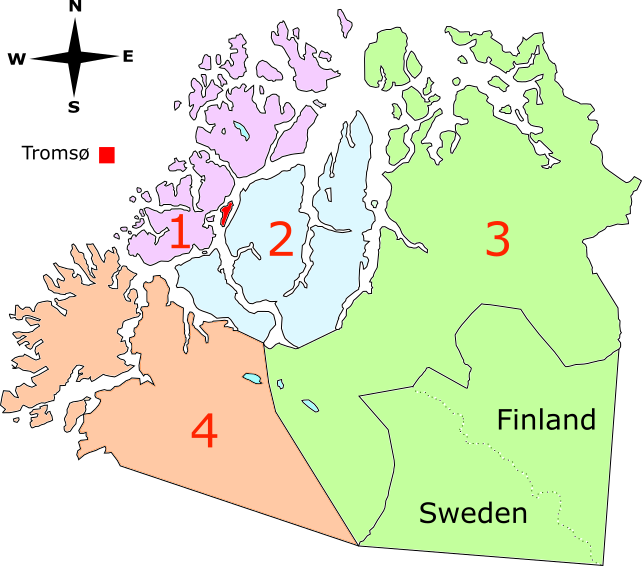 Practical questions about driving to chase the northern lights
It can be yes. Drivers inexperienced with winter conditions can easily end up driving off the road and be in need of assistance. Adding to the ice and snow you can also encounter wildlife while driving. Moose or reindeer can also cross the road providing an added obstacle which results in many accidents each year in Norway. In severe weather conditions such as blizzards, even the most experienced of drivers can be pushed off the road by winds or drifting snow on the road. The best course of action is to stick to the main roads and to not take small country lanes, especially during bad or icy weather.
Safety is important in the dark winters of Northern Norway and that goes for driving too. Proper clothing and extra layers are vitally important in case you break down or are stuck for long periods of time. A headtorch is very useful to have along with a shovel and various other safety equipment that your rental supplier should provide you with. Food and drink is also important, as it will keep you going on a long night chasing.

The biggest benefits are that the tour guide will provide you with information about the area, know where they need to go to find clear skies on that night, and provide you with photographs and snacks. Not only that, but you'll also be as safe as possible with a well trained driver and trained guide.
Tours are expensive, and renting a car is often the cheapest way of seeing the area. Having your own car also gives you the opportunity to see the sights during the day and then wait at night for the auroras to come. You are your own boss when you have your own transport.
Zone 1 offers island hopping auroras
Area one covers the islands west of Tromsø; Kvaløya and Ringvassøya. There are mountainous islands with a plethora of locations to stop and view the lights over open ocean and on mountain tops.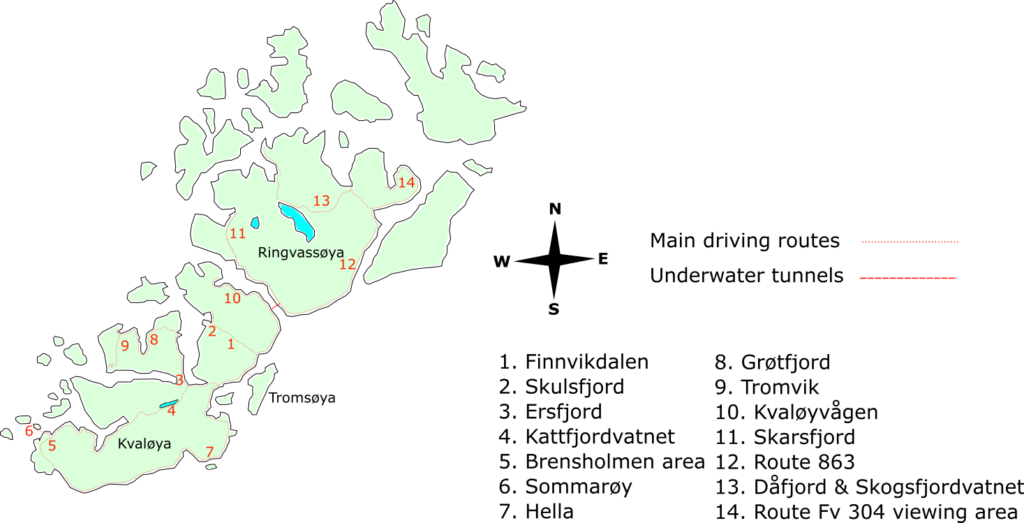 Zone 2 takes you into the mountains of the inland
The area immediately south and east of Tromsø is highly mountainous, with deep valleys and fjord views. The Lyngen Alps are the highest range of mountains in the area and provide an incredible backdrop to northern lights photos. While directly south of Tromsø you have more open field landscapes with mountain backdrops.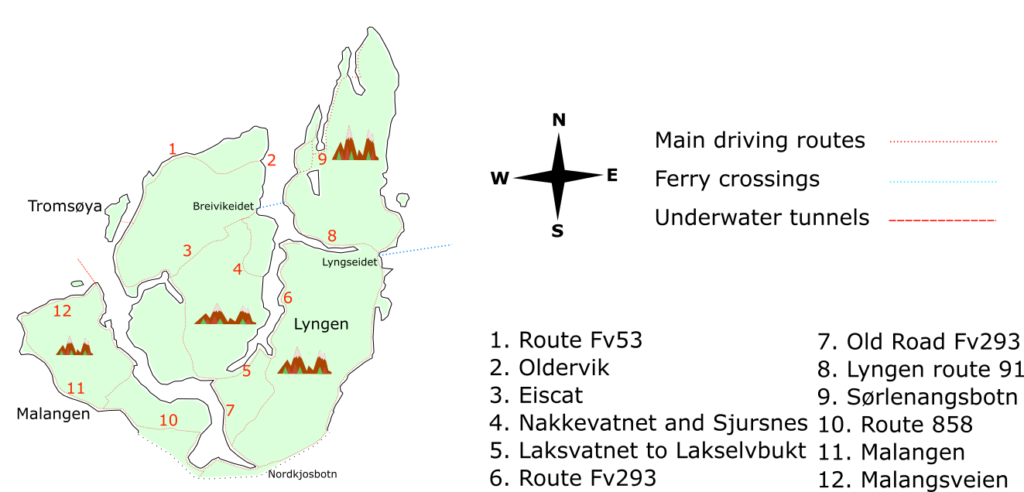 Old Road Fv293 – Driving south from Laksvatn, take the old road along the fjord edge. This will give you far more opportunities to stop if lady aurora shows up unexpectedly. However, if you are in a rush to get further inland, stay on the main E8 route.
Lyngen Route 91 – This road is nothing but stunning views of towering mountainsides. Although views are limited, if the aurora appears over the mountain tops here, you are in for a real treat.
Sørlenangsbotn – Not frequently visited, this area does provide great views to the north and will be quiet with very little traffic so is worth checking out if you are in the area.
Route 858 – There is a lot of farmland and lake areas on this stretch of road, giving far reaching views of the surroundings.
Malangen – Malangen is so popular it even has its own resort. Views here towards the ocean to south are stunning. Stopping places may be hard to find, but reduce the temptation to stop outside someone's house, it is private property.
Malangsveien – This stretch of road has many stopping places, and gives views north to Kvaløya. This area can easily be reached by taking the underwater tunnel from Kvaløya to Vikran.
Zone 3 is the hiding area when bad weather strikes the coastline
Zone 3 is far inland, good for those that like an adventure. This area is far enough inland that during stormy weather on the coast you can normally find some clear patches here. Valleys in the shadows of towering peaks begin to flatten into 360° views as you head towards the Finnish border, which you may even choose to cross. Especially around Skibotn, making the area one of the driest in northern Norway due to a micro-climate set up.

Lulleelva Rest Area – This is one of the turnoffs on the E8 route and is a large parking area. The surrounding forest and flanking mountain peaks make this stop worthy of a mention.
Helligskogen – This is the area where the hillsides start to flatten out, and views become more far reaching. If you can find a place to stop in this area, you will have some of the darkest skies possible in the area here.
Kilpisjärvi, Finland – Sometimes the weather on the Norwegian side is just too challenging, therefore crossing the border is needed. Kilpisjärvi offers a large lake and a view towards its iconic Saana hilltop.
Lyngseidet to Olderdalen ferry – This ferry journey makes it into the list because of the calm nature of the waters and the scenery you get on the trip. It takes around 40 minutes, and if the northern lights are shining, a large open deck offers spectacular views of the fjord in all directions.
Djupvik / Spåknes – This is a favourite area for views towards the Lyngen Alps. Nowhere else will you get such spectacular views of the Alps chain. It is perfectly placed for the aurora to hang over the peaks all night long if solar activity is good.
Zone 4 takes you into inland lakes, deep forests and deep cold
Zone 4 covers the far southern areas that are drivable in one night. Senja has not been included in this article due to the distance it takes to drive to good locations on the island. It would require its own article. The landscape in zone 4 has large lakes, rivers and forests, and is also one of the coldest locations during the winter time. Just be careful not to drive into any military areas, this is one of the largest training areas in Norway. Don't be surprised to see military vehicles, soldiers in the woods or hear artillery fire while out and about in this area.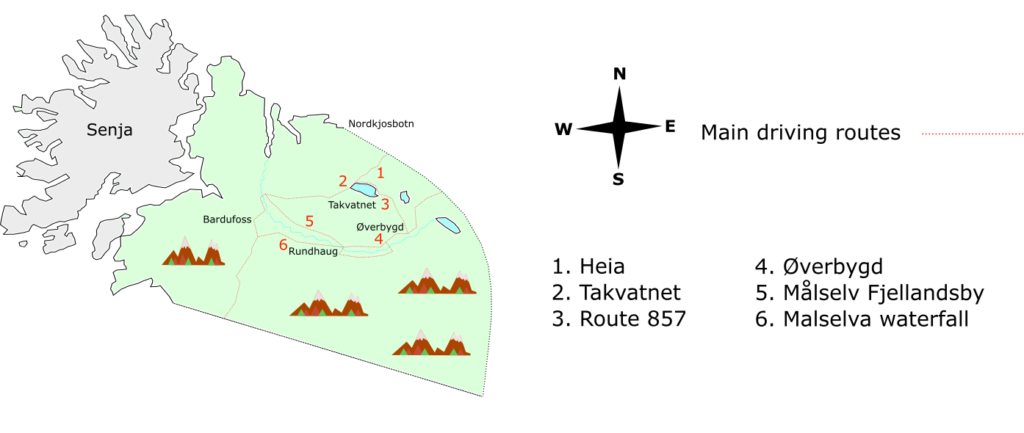 Heia – On the periphery of the military training grounds there is a parking area with heavy lighting. Park here and walk further inland away from the road and lighting. Do not cross the road onto the western side, as this is military owned.
Takvatnet – Takvatnet is a beautiful, large and atmospheric lake. Take the turning to Øverbygd and follow the lake on its north side, finding places to stop where you can walk down to the lake and enjoy the views. The best places to stop are usually on the eastern edge of the lake.
Route 857 – Moving towards Øverbygd you enter one of the coldest parts of the area as cold air collects in the land basin. But there are small stops on the road where you can get out and look for the northern lights.
Øverbygd – Just after Øverbygd take the road south westwards towards Rundhaug and cross the river. This area has heavy woodland with towering spruce trees and isolated cabins in the woods. It is a fairy tale location with freshly fallen snow.
Målselv Fjellandsby – You can drive up onto a mountain at this location. Now much of the area is private, and it is a ski resort, however there are places towards the top of the road with views towards the west. This is a beautiful location, and you can rent a place to stay here for the full experience.
Målselva waterfall – On the road south of the river, there is a parking area to see the Målselva waterfall. You need to be careful here as it is can be very icy, but the views of the frozen river with northern lights above is really atmospheric.
A summary of the locations and a few extra tips
So there you have it. A comprehensive overview of locations around the Tromsø region for viewing the northern lights. Always respect the local people, remember that private land should be respected, just like you would have someone respect it in your homeland. Never take the risk of renting a car and going out without any prior experience on winter roads, we see far too many accidents during winter as it is. And finally, enjoy yourself, the lights may not always show up, but the landscapes you can reach by car will for sure make up for it.