Sven Engholm in Karasjok has a closer relationship to his cabins than most hosts — he actually built them himself. You can't stay in many places that are as original as Engholm Husky Design Lodge.
Pine heartwood log walls, turf roofs, chunky timber tables, decorations of bone, horn and pelts — you can't get more natural than Engholm Design Lodge in Karasjok. The word "design" might make us think of rigid white minimalism, but here it means rustic and solid, with materials from the mountains and forests, and a warm, inviting atmosphere.
Every cabin is unique in its style
Engholm Design Lodge is in the middle of the pine forest just outside the village of Karasjok. The owner Sven Engholm has gradually been building the six log cabins himself, and no two are alike. All they have in common are log walls, floors of Alta slate and hand-made rustic furniture.
Egg cups are made of reindeer antler
What really gives Engholm Design Lodge its character are the unusual touches. Eggcups of reindeer antlers. Door handles made from birch burrs. Beds built with planks of birch, edged with twisting birch branches. In one of the cabins, the table and chairs hang from the ceiling, so there's nothing on the floor. Shelves, lamps, benches, table and chairs — everything is made by hand.
The food you eat is from the Finnmark plateau
Dinner in the evening is served at the big communal table; home-made food that could be elk, reindeer, char, trout, salmon or whitefish — whatever is in season. Herbs come from Engholm's own garden, and in late summer there are cloudberries from the plain. It's all washed down by crowberry and willowherb juice, and there's always a great group atmosphere.
The cabins are the perfect place to shut out everyday stresses
There's no TV in the rooms, just an iPod loaded with local music. There are books in many languages on the home-made bookshelves. Guests can relax, go for walks around the area on marked trails, take the puppies for walks in the huge dog yard, and visit Karasjok, 6 km (4 miles) away. And children love it — they have free run of the place, and can play with the dogs and entertain themselves.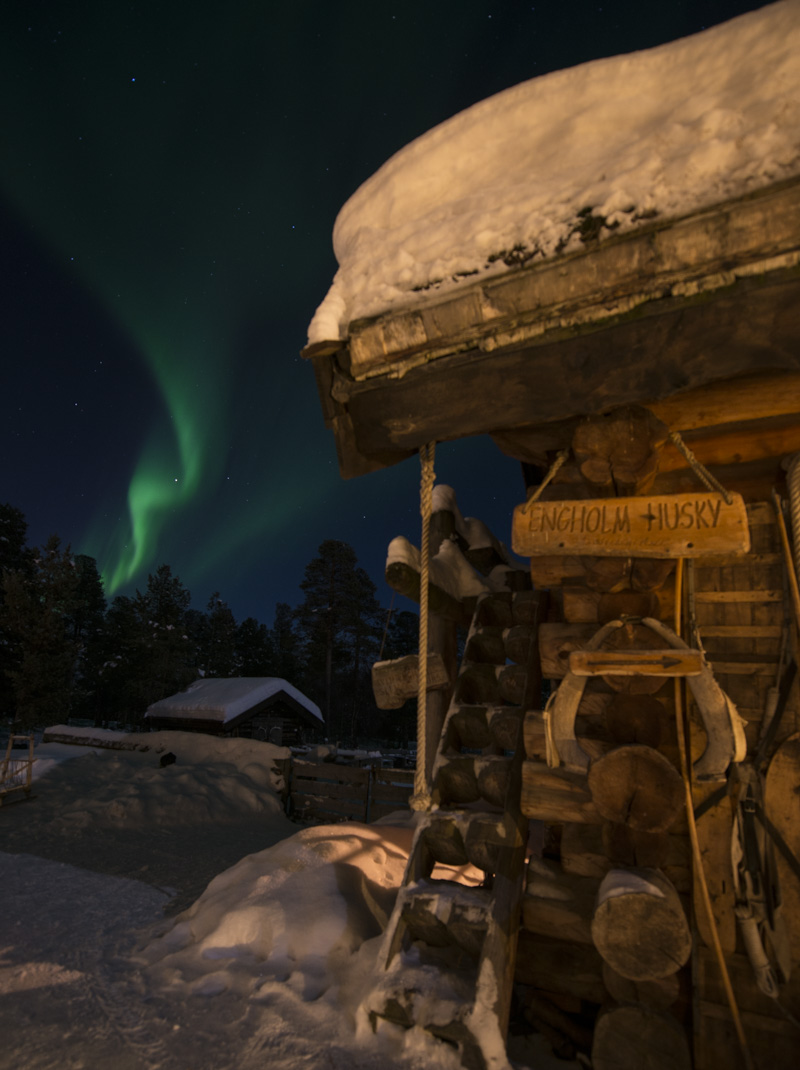 Want to stay in Engholm Husky Design Lodge?
Follow the link to stay in one of Finnmark's gems!