Most people travelling to Northern Norway come by air. There are frequent departures, and thanks to fierce competition among the airlines, fares are not that expensive anymore.
Which direct international flights go to Northern Norway?
A number of flag carriers as well as low cost airlines flies to Northern Norway from international destinations. The bonus is quicker flights and often good prices. Most of these flights are not operational all year. Some are operated in summer, others are in the busy winter season.
International flights to Bodø currently:
Tromsø is reached directly from the following destinations:
Flying through Oslo is a good option
Norway's premier airport Gardermoen, OSL, near Oslo has a wide range of international connections, both low cost airlines and the flag carriers. NB! There is also a second airport in the greater Oslo area, Torp TRF. This airport is some 2 hours' travel from OSL, so make sure you have plenty of time to get from one airport to the other.
SAS flies direct from Oslo Airport Gardermoen (OSL) to Bodø (BOO), Harstad/Narvik (EVE), Bardufoss (BDU), Tromsø (TOS), Alta (ALF), Kirkenes (KKN) and Longyearbyen (LYR) on Svalbard, the latter both directly and through Tromsø. Parts of the year, there are also direct flights from Stockholm (STO) to Tromsø. Through tickets are available from all over the world via the Star Alliance.
The low-cost airline Norwegian flies from Oslo Airport Gardermoen (OSL) to Bodø (BOO), Harstad/Narvik (EVE), Bardufoss (BDU), Tromsø (TOS), Alta (ALF) and Kirkenes (KKN). From London Gatwick (LGW) there are flights to Tromsø. In the summer, there are also direct flights from Oslo to Andenes (ANX), Lakselv (LKL) and Longyearbyen/Svalbard (LYR). The airline also offers through tickets from a number of European cities.
Widerøe flies from Trondheim (TRD) to Brønnøysund (BNN), Sandnessjøen (SSJ), Mosjøen (MJF) and Mo i Rana (MQN) They also fly directly from Oslo (OSL) to Brønnøysund (BNN). Widerøe also flies abroad, to various destinations in Northern Europe.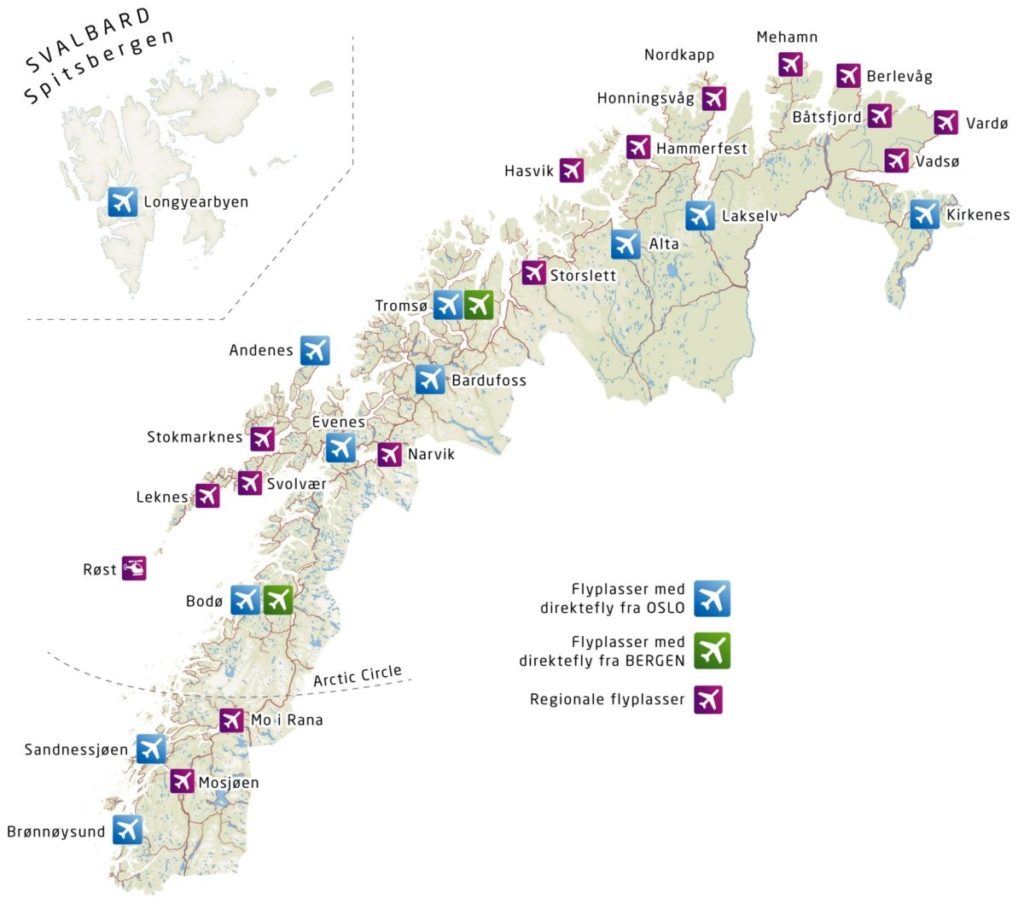 Flying through Bergen is excllent from some destinations
The airline Widerøe flies directly from Norway's second city Bergen to Bodø and Tromsø. From Bergen, Widerøe also flies to a number of Northern European cities. This is a quick and easy connection, with the added bonus of combining Fjord Norway with Northern Norway.
Beware of the little writing
Nothing changes as quickly as aviation. New flights open and old ones close down. We can never guarantee that this information is 100% correct at any given point. The most updated source of information is the website of Avinor, the company running all the airports in Northern Norway.