What does a Northern Lights hunt look like? Virgil in Tromsø is an experienced Northern Lights chaser and shared some of his extensive experiences with us.
One November night, when it was snowing, again, in Tromsø, Virgil Reglioni in the tour company Wandering Owl took a little group of Northern Lights watchers out of town. We asked him to tell us what happened, and in really good English with added French energy and enthusiasm, he took us back to that evening. Here he shares what happened.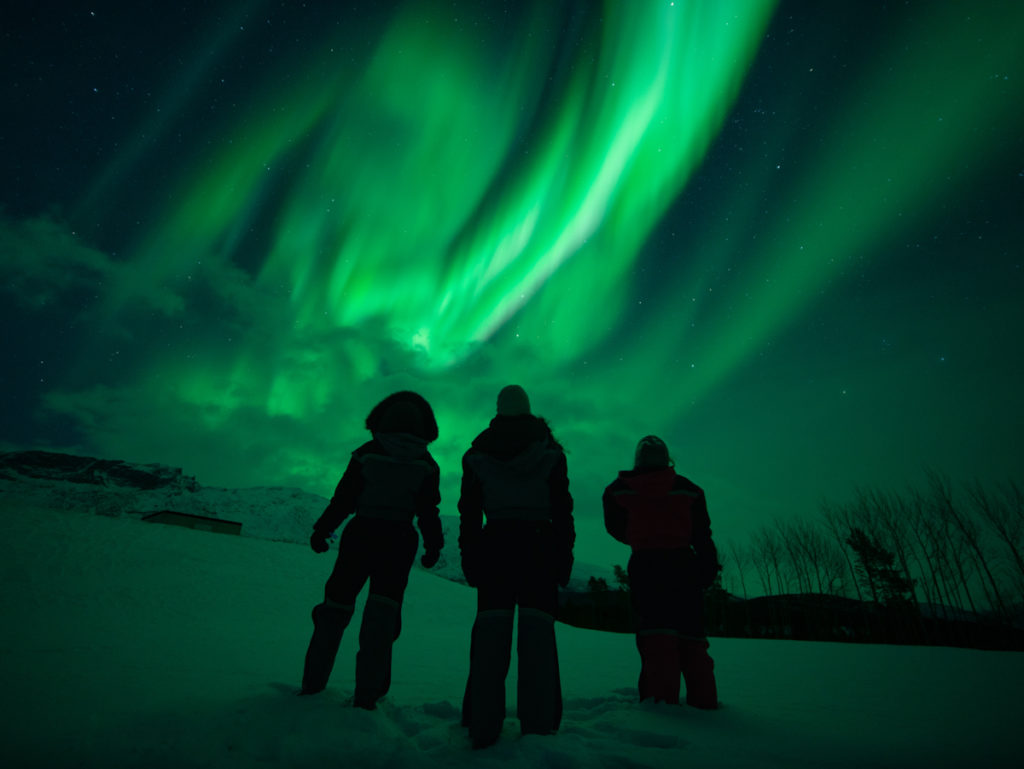 The weather chart is a good start
It's all about finding clear skies. The Tromsø area is right under the Northern Lights oval, so any Northern Lights will be visible here on a clear night. What really matters for a Northern Lights guide, is finding clear skies. Virgil went to several different weather apps and websites. With a trained eye, he calculated how cloud systems can engulf one valley, but may miss another. Weather charts are extremely helpful, but they need interpretation. Today wasn't the easiest day.
A calculated guess was made
Virgil made a good guess. Skibotn, this dry inland valley on the border to Finland is often a safe bet. He was, however, ready to detour into neighbouring Tamokdalen Valley, where there are pockets seldom reached by clouds. "I often change my mind" he says. Flexibility is a key factor.
Alternatives were considered
The beauty with northern lights viewing in Tromsø are the many microclimates around the city. Virgil's first choice in good conditions is the island of Kvaløya at Tromsø's doorstep. Here there are ample chances of aurora streaming over mountain tops, all within max one hour's drive. A little further away is the island of Ringvassøya. Here, chances are good when it's snowing heavily in Tromsø. How windy it is, is also of importance. After all, icy wind on an arctic beach can be unpleasant.
Inland is better when it's cloudy
When Tromsø is drenched in rain or drowned in snow, inland is where Virgil needs to go. He lists up a few locations; Breivikeidet, Laksvatn, Meistervik. However, under particularly difficult conditions, the remote inland valleys are the best, although it involves driving a couple of hours. The most extreme is crossing the border to Finland, where one might have clear skies when things are difficult on the Norwegian side.
The devil's in the detail, including a last weather check
Virgil turned up half an hour before. He checked all his camera equipment, ensured that firewood, overalls, boots, extra tripods, soup and drinks were properly packed. When all was ready, he did a last-minute weather check. «Had there been an opening on Kvaløya Island, I would have changed plans right there and then» he smiled, «but no such luck».
The atmosphere was subdued
Low, snow-laden clouds driving out of Tromsø did nothing to raise the mood. The atmosphere was subdued, there was an air of pessimism. Virgil found it his job to liven things up. He explained the weather situation and how the weather can be different inland. He shared his thoughts quite in detail. "Then they know that if we don't see the lights, we have at least tried very hard". Given plenty of time, he could also give a thorough intro to the Northern Lights in general, share some good stories and inform about the region in general.
Virgil found a place off the road
Virgil is reluctant to reveal his secret spot in the Skibotn area. «Well, it's up the valley, and then…». I can't quite follow, and that's maybe for the best. He prefers to take his guests away from the main roads, find a somewhat secluded spot and let them enjoy being out at night. A starry night sky is not an everyday thing for city slickers, so being out in the nature is a bonus. So, Virgil was leading his flock somewhere in the deep, forested valley between the towering mountains.
How to take Aurora photographs
The cameras were adjusted
The last leg up the valley, Virgil instructed the guests how to adjust the cameras. Many people have good cameras these days, but night photography is about the most difficult thing you can do. Therefore, Virgil also checked the camera adjustments over everybody when leaving the bus.
Dress to impress Aurora
The dress code are heavy survival suits. They are bothersome to put on if you're not used to them, and Virgil helped his guests put them on. Even if looking like Teletubbies, the guests can easily move about. And most importantly; you don't freeze. At this particular night, the temperature was -14C, which is cold, but far from record-breaking.
Finding a good spot to make a fire
Everything ready, Virgil hiked from the parking to a nice opening in the forests. Here he made a fire while chit-chatting with the guests. The skies were clear, and the stars were coming through. Now it was all up to Aurora and her mood swings. Having found clear skies, there was nothing more Virgil could do. Except serving hot soup and hoping for the best.
Find north and look for the lights
Virgil always teaches his guests to find north. Usually, the Northern Lights start off like an arch from north-east to north-west. Often, there is a little haze that you can see the starts through. If you photograph the little haze, you can often see a hint of green on the photo. That means something is happening up there. A stronger eruption will usually go overhead, and the epic strong ones can even be on the southern horizon. But it all starts in the north.
Aurora finally paid a visit
And then, about a quarter to ten, it started. Slowly at first, but soon the sky was filled with green bands. Solid pink at the lower fringe, a hint of violet in the centre, and every shade of green from lime to teal. The guests were cheering, laughing and crying, finally the moment had arrived. Virgil also took portrait photos of those guests that wanted to.
Taking a moment off
As the lights continued, some of the guests walked a bit away from the others. They laid in the snow, looking up and enjoyed the view up on the sky. Gone were the thoughts of getting the best photo; it was all about savouring the precious moment they had travelled so far for. This also gave Virgil a chance of taking his own photos.
Hot chocolate is good for debrief
Needless to say, the atmosphere in the group had been lifted a fair bit. Virgil served hot chocolate as the lights subsided, and there were many smiles around the fire. Then it was time to go back to town. Virgil let people sleep, and only answered additional questions with a low voice to those interested. When arriving in Tromsø, the guests assured him they were going to remember this for a long time.
What if there are no lights?
Do you always find the lights? I ask with a wink. With a very French shoulder shrug, Virgil says that nothing can be guaranteed in life. "A few times a year we do find clear skies, but nothing happens". The weather, however, is the main obstacle. If there are no openings in the cloud cover where Virgil hopes to find them, he has to move on. But occasionally, he has to concede his defeat. Aurora does her own thing.
Virgil works for Wandering Owl
Virgil Reglioni is one of the guides for the tour company Wandering Owl in Tromsø. They are one of the smaller of the many companies offering guided northern lights tours in Tromsø. Virgil comes from the Grenoble area in the French Alps, but has spent several winter seasons in Tromsø. His photo skills he has learned himself, with some amazing results. In 2021 he won the Best Northern Light photographer of the year collection (By Capture_The_Atlas). A photography from Senja Island is France's candidate for the World Photography Cup in 2022.