Northern Norway is vast and sparsely populated. Still, you can travel almost everywhere by bus or boat. Here we help you find out when to travel and how to pay for it.
How do you find out when the next bus leaves for the next destination? Do you need to know how often there is a boat to your dream island? How do you buy a ticket? Here we is an overview of where to look for information.
The counties monitor public transportation
When you arrive by catamaran to a port in Northern Norway, chances are there is a bus or two waiting on the dock. They bring passengers further to settlements and hamlets in the area. If the boat is late, those buses typically wait. You buy a single ticket for both the bus and the boat. This is all because the country co-ordinates and subsidises buses and boats. The system might seem impenetrable at first, but once you look into it, you understand how well it works. Each of the counties Nordland, Troms and Finnmark have their separate systems, but these work about in the same way. Here is an overview of where to find departure hours, get timetables and buy a ticket.
Travel and ticket information in Finnmark County
When you're travelling from one location to the next in Finnmark, you use the travel planner called Snelandia
This is also available as an app on your mobile phone: snelandia
To pay for the ticket, you use the app snelandia mobil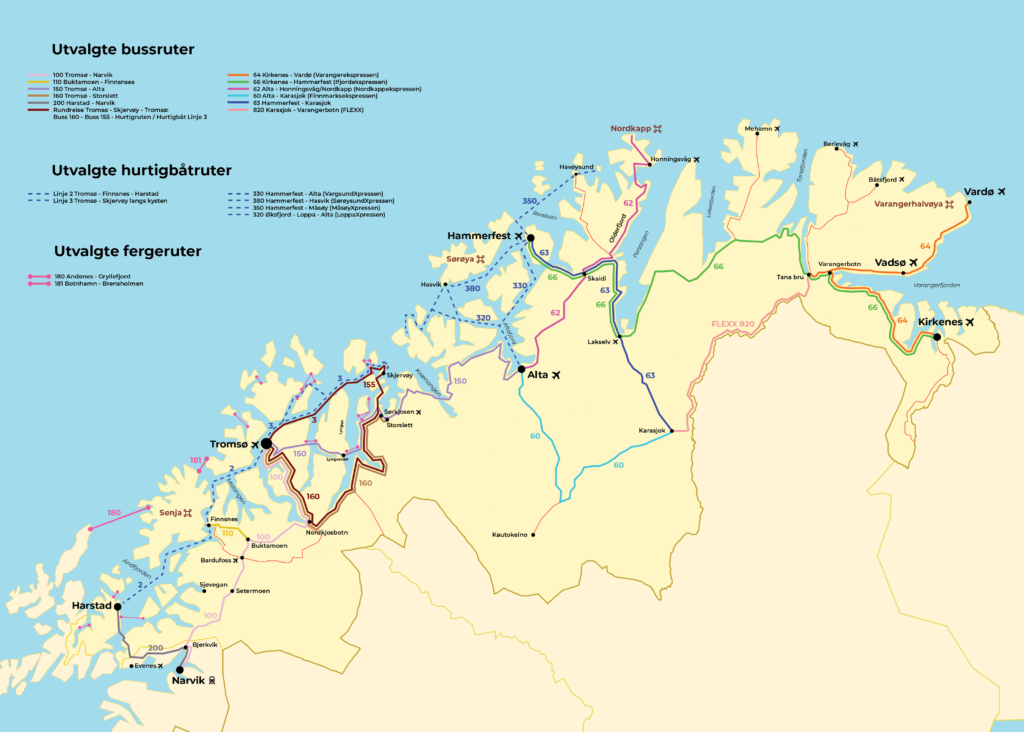 Travel and ticket information in Troms County
When travelling from one location to the next, you use the travel planner called Tromskortet
This is also an app: Troms Reise
To pay for the ticket, use the app Troms Billett
For an overview of bus routes, catamaran routes and ferry routes, you can also consult Tromskortet. Press "Timetables"
Travel and ticket information in Nordland County
When travelling from one location to the next, use the travel planner on the website ReisNordland (English version coming)
You can also use the app reisnordland
To pay for the ticket, use the app billett Nordland
Timetables for every bus, boat or ferry route is found as a pdf on ReisNordland
EnTur has it all
For a quick overview, the national travel planner EnTur can be very practical, both on your pc and as an app. This is valid for all Norway, and gives quick access to departure times.
Check ferry timetables are found at Statens vegvesen
Car drivers can easily check the next departure on any ferry in Norway on the Statens vegvesen (the Norwegian Public Roads Administration) homepage. Write the name of your departure and arrival ferry dock in the search field, and the departure times the next few days show up. The word "ferjekai" is usually attached to the geographical name. We also have an overview of the most important ferries in Northern Norway.
Travel Pass Nordland gives you unlimited travel for a week
When travelling around Nordland country, you can save a lot of money by using Travel Pass Nordland, as you can travel unlimitedly around by bus and catamaran for a week.
The ticket is sold at the app Billett Nordland. You can also buy it at the information counter atthe "Serviceterminalen" – Service terminal – in Bodø when that counter is manned.
Reserving a seat in one of the very popular catamaran boats Bodø-Sandnessjøen and Bodø-Svolvær is a good idea. This can be done at the "prebook catamaran" function at ReisNordland. Then order a seat for 0 kroner, and show your Travel Pass upon embarkation.
The Summer Ticket in Troms and Finnmark takes you limitless around the high north
When touring the northernmost part of Norway in summer, you can save a lot of money on the summer ticket. This is valid in both Troms and Finnmark counties.
You can buy the tickets on the apps Snelandia Mobilett and Troms Billett
The ticket is valid in Finnmark even if you bought it in Troms. And vice versa.
You can prebook a seat at the Tromsø-Finnsnes-Harstad catamaran at the TromsKortet website
Arctic Route links popular tourist destinations
The private company Arctic Route operates a number of bus routes between popular destinations in Norway and Finland. They make it easier to reach some of the places visitors want to experience. A private company, their tickes have to be purchased on their website.
Hurtigruten has its own system
The legendary shipping line, Hurtigruten, now officially Kystruten, consists of 11 ships calling at 32 ports, 25 of them in Northern Norway, on its way from Bergen to Kirkenes. The route is shared by two companies, Hurtigruten ASA and Havila. They operate independently of the counties, as they sail through 6 of Norway's counties.
FAQ
The regularity of buses in the North is impressive, and cancellations are rare. However, bad weather can cause delays or even cancellations of buses and boats. In these cases, the companies do whatever they can to help the passengers reach their destination as quickly as possible. They cannot, however, pay compensation for delays. You thus need a travel insurance covering this.
If a bus or boat is delayed to notably Bodø, Tromsø or Kirkenes, and you have a non-refundable ticket, the company will not pay for a new ticket. You therefore have calculate in extra time, and your travel insurance should cover these kinds of unexpected things.
Some popular routes may be full. This is particularly true on the catamaran ships of Bodø-Sandnessjøen, Bodø-Svolvær and Tromsø-Harstad. These can be reserved ahead. Some buses, notably Tromsø-Narvik and Tromsø-Alta, have a capacity guarantee. A new bus will be available if the original one is full. Otherwise, it is seldom full in Northern Norway, although you do risk to get rejected. Friday afternoon, Sunday night and the start and end of school holidays can occasionally be risky. Do come a little early.